What perfect weather we had for Welly Day!
We started the day getting very messy with mud and creating woodland characters out of wet mud and natural materials. The boys named their characters and decided what sort of personality they would have.
After break we all headed down to Green Meadow.
The boys had a fire safety talk and then with the help of Sam, a work experience student we built a fire in a fire pit and the adults had fun toasting bananas and marshmallows!
The next task for the boys was to work in groups to create a mini beast picture out of natural materials.
Time for a well earned lunch break.
And some rolling down the banks!
After lunch play the boys had a treasure hunt around the school grounds, trying to find pictures of different mini beasts and work out the hidden words.
The next challenge was trying to find out how many different natural objects would fit in a matchbox.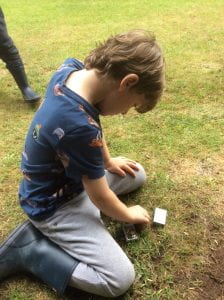 Finally we finished by reading the story given to the class by Pebbles the penguin. Reminding us to take care of the natural world.
A super day of learning and fun in the great outdoors!
I think there will be some sleepy boys tonight!
😴😴😴